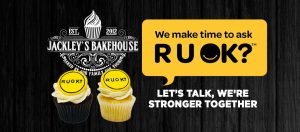 WE ARE NOW FULLY BOOKED FOR R U OK DAY DELIVERIES!
IF YOU WOULD LIKE TO ORDER FOR A IN STORE COLLECTION AFTER 10am PLEASE CALL 40360694
R U OK Day is Thursday September 9 and we will be hitting the streets of Cairns once again delivering our cupcakes to workplaces in an effort to start the conversation and ask the question, R U OK?
No products were found matching your selection.